As we already described, this will not be a restoration like so many others.
No, this restoration will be to keep its ''lived live'' preserved and keep the time line correct.

One important thing are the wheels, they drove the mileage and you should see that.
All those years can't go past looking like brand new.

So, you can make a choice by leaving them un tached or renew the whole rim
Or, you can clean them thoroughly and what's left behind should stay there as prove off its ''lived live''

Have chosen the last one.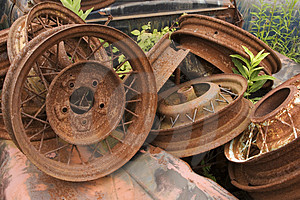 Here you have the wheel as it is, rusty and un tached

Used a wire brush for the loose rust parts

Used some polish to clean the light rusted parts

Until now, really like to looks.
It shows ''live''

The overall look is nice, happy with that.


Next will be to clean the spokes